Our trip to Wilmot Orchards was fun, carefree and fruitful. While in their beautiful yummy cafe I was introduced to Astoria Mills Gluten Free Flours. I am a little obsessed with these flours right now. It has become the life support to my gluten free baking. Seriously. Anyway, I couldn't wait to get home to start baking. Nothing is more satisfying on a summer morning than freshly baked blueberry muffins. My children sat at the table anxiously awaiting the fruits of their labour from the previous day.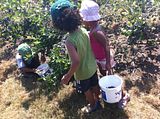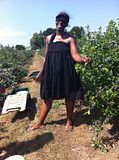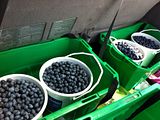 Now for the recipe. I am obsessed with Julia Childs. I love everything she did and liked. (Except for the cigarettes!) One of my beloved recipes from her Baking With Julia cookbook is the Blueberry Muffins. The only thing I had to tackle was how to "clean up" this recipe. That means, no dairy, no gluten, and no refined sugar. So here's what I came up with.
First some words of caution. This recipe requires a gentle hand and the ability to hold back a little. The fluffy delicate texture will be your reward if you comply. Trust me.
Dairy and Gluten Free Blueberry Muffins
1 3/4 cups Astoria Mills Gluten Free Pastry Flour
1 teaspoons baking soda
1/2 teaspoon cream of tarter
1 teaspoon salt
1 pint blueberries
3/4 cups coconut milk
1/4 cup coconut cream (This is the top thick part of the coconut milk that stays at the top of the can. Try to keep it thick)
Scant 1/4 cup creamed honey (optional)
1/2 cup vegetable oil (coconut is a great one)
2/3 cup coconut sugar (you could use other sugars)
2 large eggs
1 large egg yolk
(Whisk the eggs and set aside)
Makes about 18 muffins. Preheat oven to 400 degrees.
Mix the flour, baking soda, cream of tartar, coconut sugar and salt together. Mix a tablespoon of the mixture with the blueberries. This prevents the blueberries from sinking to the bottom. This is a great tip from the original recipe.
Gently fold the coconut milk and coconut cream together.
Whisk the honey and eggs until blended and creamy-ish.
Add the egg-honey mixture to the coconut milk mixture. Gently fold the mixture.
Shift half of the dry ingredients into the coconut-egg mixture bowl. Fold it gently. Don't worry about getting it fully combined. Add the rest of the flour. Make sure to fold it in until almost mixed. Gently place blueberries over the bowl. Fold very gently.
Spoon the batter into paper lined cupcake tins at 2/3 full. Bake for about 15-20 minutes. I usually check by touching the tops to make sure they are firm but also give a little. The tops will get a nice golden colour.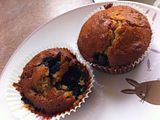 Let them cool a little on a rack. It will be hard to resist digging in but it will be well worth it.
Enjoy.
Have you "cleaned up" any recipes lately?